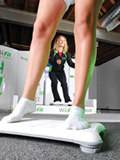 Nintendo says Wii Fit can get gamers to exercise
Photo credit: Nintendo of Canada
Can Wii Fit shape up vid kids?
TOKYO — In what will certainly go down as the greatest marketing campaign since Tom Sawyer's endorsement of whitewashing the fence, Nintendo's Wii Fit is making exercising cool — and profitable. The Wii Fit interactive platform ($90), an addition to the hugely popular Wii console ($270), resembles a set of bathroom scales on which the player stands and shimmies about — er, exercises. The platform picks up the player's movements and portrays them on the screen performed by a large-headed cartoon version of herself. Not-so-fun-sounding activities available are yoga, aerobics and strength and balance training. Sorry, Nintendo: exercising still sucks.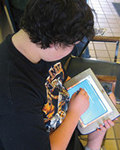 Sad but true: teens would rather talk to computers than to doctors
Photo credit: Nationwide Children's Hospital
Computer talks to teens so you don't have to
COLUMBUS, OH — Teenagers often hate talking to doctors about their sex lives and drug use. But teens do love computers. Ergo, American researchers have designed a wireless handheld computer that asks kids what they've been up to and then dishes the dirt to their doctors (wouldn't it make Gossip Girl proud?). Health eTouch caught and relayed 31% more "behavioural concerns" than did old-fashioned history-taking, according to a study in the June issue of Pediatrics.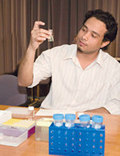 McMaster chemist Roger Luckham holds up a sample of bioactive paper
Photo credit: Sentinel Bioactive Paper Network
Psst: wanna buy some antimicrobial paper?
ESPOO, FINLAND — Canadian scientists working on bioactive, microbe-killing paper products faced off with Finn rivals at the First International Conference on Bioactive Paper in late June. The commercial potential of paper that can detect and destroy bacteria and viruses is apparently so great that conferencegoers refused to reveal anything but already-published results.